​Larsen Families, Do you know what platforms your child is on? Know the dangers of Social Media Join us this Wednesday, March 29 at 8:30AM in our Larsen School Cafeteria​ Presented by Officer Murillo and Our Resource Officer Hurtado

Larsen Families, Join us for our Open House Tuesday, March 14 from 5:00-7:00 PM.

Larsen Families, Join us on Monday, March 6 at 8:07 Am for our Roadrunners Open Campus. We will be featuring the character of the month: Respect.

Laren Families, Your input is very important to us, . Please join our Families in Schools Focus group on: Date: Wednesday, March 15, 2023 Time: 8:00 - 10: 00 AM. Location: Larsen Please register here


Larsen Families, Session 2 of SHINE Enrichment classes ends on March 10th. Session 3 will begin March 11 - June 14, 2023. Students currently enrolled in dance, art, robotics and Actor's Lab classes may continue attending this enrichment for Session 3. If they are in Cooking Club for Session 2 and are still interested in attending, they must re -enroll to continue for Session 3. If you would like to enroll your student in any other enrichment classes, complete the registration form and return it to your child's teacher or to the school office as soon as possible. Registration forms are available in the school office or you can print and complete using the following link : :
https://docs.google.com/document/d/1Woxy6fGovUemrddcHPuM6mLeUkL2fkiFOe4HpYnZoxI/edit?usp=sharing

There will be no school in honor of the Presidents' Holiday on Friday, February 17 and Monday, February 20 - School will resume on Tuesday, February 21.


Larsen Families, Join us for our Open Campus Gathering on Monday, February 6 at 8:07 AM. See you there!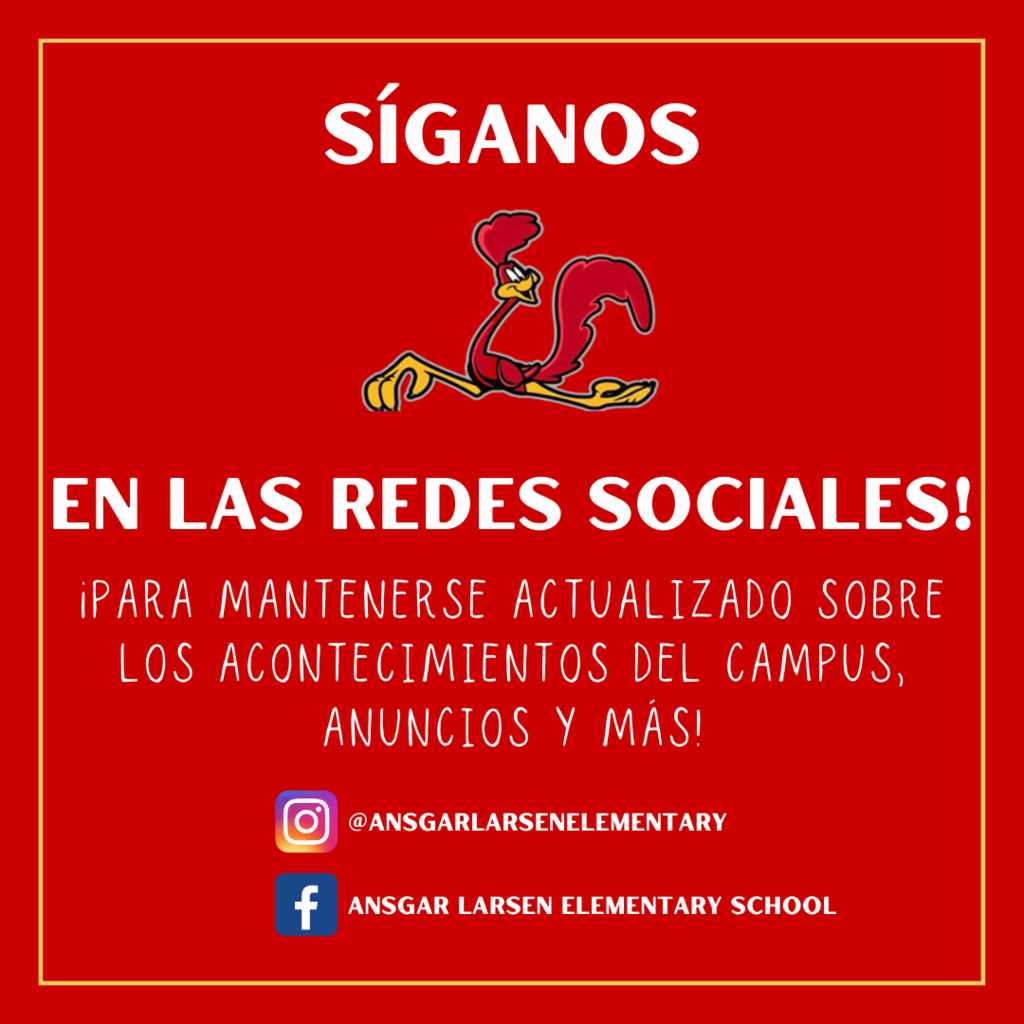 Larsen Families, Join us this Friday, January 27, at 8:30 am. For our Cafe con leche/Coffee With Cream Parent Meeting. See you there!


​Please join our SSC Meeting, Thursday, January 19, 2023 at 7:00 Pm via Zoom. Please call the office for meeting link.

Larsen Families, School will resume Tuesday, January 17. You are invited to join our Open Campus Gathering at 8:07 AM. We will be featuring the Character Trait Pillar of the Month: CARING Be kind. Be compassionate. Express gratitude. Forgive others. We hope you can join us!

Martin King Jr. Holiday - Monday, January 16, 2023 - No School School will be closed Monday January 16 in honor of Martin Luther King Jr. Martin Luther King Jr. was an American Baptist minister and activist, one of the most prominent leaders in the civil rights movement from 1955 until his assassination in 1968.

You are invited to our Open Campus Gathering Larsen Families, Join us for our Open Campus Gathering on Tuesday January 17 at 8:07 am. If it rains, we will cancel our event.


SCHOOL RESUMES TOMORROW JANUARY 5TH, 2023 Evelyn Jimenez JAN 04, 2023 School Resumes Thursday, January 5, 2023 Larsen Families, School resumes on Thursday, January 5 2023. Please remember to charge your devices, wear your uniform and come prepared to learn. We are expecting rain. Please plan accordingly.

Larsen Families / Familias de Larsen; Wednesday, December 21, 2022 will be a minimum day with an early dismissal. All grades will be dismissed at 11:37a.m. Please be punctual in picking up your child. We will not have ASES/ELOP After school programs tomorrow. Miércoles, 21 de diciembre de 2022 será un día mínimo, saldrán temprano. Todos los grados saldrán a las 11:37 a.m. Por favor sea puntual en recoger a sus niño/a. No tendremos programas despues de escuela ASES/ELOP manana. Larsen Staff wants to wish you all a Safe and Happy Holiday Winter Break. El personal de la Escuela Larsen desea que pasen unas felices y sanas vacaciones de invierno.

Larsen Families, Friendly Reminder... Wednesday, December 21st is a Minimum Day for ALL students. All students will leave campus at the following times: Grade TK - 11:37 AM Grade K - 11:37 AM Grades 1-5 -11:37 AM Winter Break is Wednesday, December 22 - Wednesday, January 4. We return to school, Thursday, January 5, 2023.